1994: Los Angeles earthquake
LOS ANGELES, Jan. 17, 1994 — A violent earthquake jolted millions of people out of bed before dawn today, crumpling freeway overpasses, leveling buildings and igniting scores of fires. Hundreds of people were injured and at least 24 were reported killed, including 14 at a three-level apartment complex that was reduced to two stories.
The quake, centered in the Northridge area in the San Fernando Valley, 20 miles northwest of downtown Los Angeles, measured 6.6 on the Richter scale of ground motion and was felt for hundreds of miles, knocking out power and water service for hundreds of thousands of residents.
In a region held together by its network of freeways, three overpasses collapsed, crippling major highways for weeks and possibly months. Roads cracked and buckled across the San Fernando Valley.
People lingered on the streets throughout the day as the thuds of aftershocks sent dust rising above the mountains. Others formed long lines outside hardware stores and tried to buy batteries, water, propane or plywood to repair damaged homes. And when evening came, hundreds of people whose homes were destroyed or too dangerous to re-enter camped in city parks and on tennis courts in a nervously festive atmosphere, some of them with campfires and cases of beer.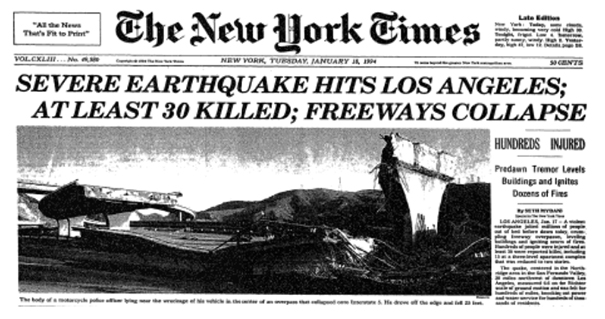 A state of emergency was declared at the local, state and Federal levels in this latest disaster to strike the city. Aerial pictures of blocks of burning buildings evoked traumatic memories of the 1992 riots and last autumn's wildfires.
"I couldn't stop screaming as I ran out of the house," said Erik Wyler, 19, still shaking an hour after the quake. "I looked up and all I could see was darkness coming toward us, and it got real windy. I thought it was the sun exploding."
Hundreds of buildings were damaged, including Anaheim Stadium, which was expected to need $3.4 million in repairs. The earthquake, which struck at 4:31 A.M., was not the strongest to hit the region in recent years but was by far the most destructive because it struck in a heavily populated area.
The Chief of Police, Willie L. Williams addressed the city on television this evening, telling people to remain calm and to stay home from work on Tuesday if possible. He said that city offices would be open on Tuesday but that schools in the Los Angeles Unified School District would be closed.
He also announced a dusk-to-dawn curfew and issued a warning against any potential looters, with reference to the rampage that overtook the city during the 1992 riots.
"We're not going to tolerate what took place a year and a half ago," he said. Half a dozen people were arrested in downtown Los Angeles today for looting.
Late in the day, 90 percent of the city remained without power, and utility officials said electricity would be unavailable in certain areas for up to three days.
Officials urged San Fernando Valley residents to boil drinking water because power was lost to machinery that chlorinates the region's water.
Hardest hit was the Northridge section of the city near California State University, where a three-story apartment building collapsed into its bottom floor. As rescuers used hydraulic drills and diamond-blade saws to dig for survivors, shaken residents described "a rumbling, ripping noise," that seemed to tear the whole building apart.
But mixed with stories of death were tales of amazing rescues. In a shopping center, firefighters struggled to reach a street cleaner they knew only as Salvador, who was trapped in his sweeping machine in an underground garage. As tremors continued to shake the building, firefighters shored up the rubble with wooden struts and fed him air and water. More than eight hours later he was pulled out alive.
The Santa Monica Freeway, or Interstate 10, which is the nation's busiest freeway, was rendered impassable. A section of the Simi Valley Freeway also collapsed. And the four-level intersection between Interstate 5, the main north-south artery on the West Coast, and Highway 14, was splintered into fragments of concrete and steel.
In a grotesque image of Southern California destruction, sections of the lacy cloverleaf of Highway 14 that soars 75 feet above I-5 lay tangled on the ground, support beams sprouting above the rubble like broken bones. When the overpass collapsed, it took with it a police officer on motorcycle who tumbled through the air to his death.
Officials said the dead also included a person who fell from a sixth-floor window at a downtown hotel; a woman who broke her neck when she slipped and hit her head on a baby crib; two people whose home in Sherman Oaks slid down a hillside, and five people who died of heart attacks because of the quake.
The earthquake struck with a shuddering jolt that some residents likened to a bomb blast and others to a ride on a roller coaster. For 30 seconds, bookcases, crockery and even refrigerators were thrown through the air, and on the streets outside, car alarms could be heard under the still-swaying trees as far as the ear could hear. Then, after a long, breathless silence, the sirens of rescue vehicles began.
In Mission Hills, Luz Becerra was in the shower when the earthquake struck. "It picked me up and knocked me over to the bed," she said. "I was crying, 'Please, God, please, God, don't let anything happen to me."'
In West Los Angeles, Jossein Vameghi said: "Things were moving in both directions, up and down and crossways. I was terrified. I thought I was going to vomit. I ran to the door."
On the still-dark streets outside, as people asked each other what had happened, electrical transformers exploded into flames. Suddenly, some streets were engulfed in fire, blackening rows of parked cars. In some places, broken water mains turned streets into fast-rushing rivers.
In Santa Monica, Alan Hunter took refuge in his car only moments before a gas line exploded and demolished his apartment.
Other gas explosions set entire blocks aflame in the Sylmar section. At least 44 homes, some in a mobile-home park, were destroyed, and the neighborhood was reduced to rubble, resembling streets destroyed by the Southern California wildfires only two months ago.
At the apartment complex that collapsed, the Northridge Meadows, Sheila Chulick, a 34-year-old college student, jumped from her second-story balcony when the exits became blocked.
"I crawled around but all the exits were blocked," she said, describing the blackness of the smoke and strange terrain of broken walls and debris. "People were freaking out and yelling all over the streets. I was just glad to be alive. I have nothing left but my life."
A 64-car freight train derailed between the Chatsworth and Northridge sections, leaking sulfuric acid from a tanker, a Southern Pacific Railroad spokesman, Jack Martin, told The Associated Press. Crews were cleaning up the spill.
At the Northridge Fashion Center, the Bullocks department store collapsed into a gnarled pile of concrete and steel. Windows were shattered throughout the mall, and the parking structure was flattened into a 20-foot-high pile of rubble.
One of two aqueducts that carry water from the Sierra Nevada to Los Angeles was ruptured, and water mains broke in several neighborhoods. Telephone service was lost throughout the region and power was disrupted as far away as Canada. Los Angeles International Airport was briefly closed as a precaution.
Gov. Pete Wilson and Mayor Richard J. Riordan of Los Angeles each declared a state of emergency. California National Guard troops were sent in, and the Office of Emergency Services sent about 300 search-and-rescue teams equipped with fiber-optic sensors and other gear to detect structural flaws and find victims.
In Washington, President Clinton said he was told of the earthquake at about 8 A.M. Eastern time in a phone call from Housing Secretary Henry G. Cisneros. This afternoon, he signed an official declaration of disaster, making aid available for rebuilding highways and schools, low-interest loans and emergency unemployment funds.
"I ask the American people to remember the people of Los Angeles County in their thoughts and prayers today," Mr. Clinton said.
Dee Dee Myers, the White House press secretary, said that Mr. Cisneros; the director of the Federal Emergency Management Agency, James Lee Witt, and Transportation Secretary Federico F. Pena left this afternoon for Los Angeles.
When asked whether he would also fly to the scene, Mr. Clinton said, "I think it's important that I not go out there and get in the way."
For all its damage, the quake was not the long-predicted Big One that experts fear will cause catastrophic damage someday. It was neither as powerful nor as deadly as the quake that hit the San Francisco Bay area on Oct. 17, 1989, which killed 63 people.
Seismologists at the California Institute of Technology said the earthquake hit on a previously unknown branch of a fault that is part of a network of fissures that trembles constantly underneath the Los Angeles area.
It is part of a system that is responsible for a 5.9 magnitude quake that was involved in the 1987 Whittier Narrows earthquake, said Kate Hutton of Caltech. She said it appeared to be about nine miles under the ground but did not break the surface in visible fissures.
Throughout the day, strong aftershocks as high as 5.5 on the Richter scale continued to jolt the area in what Ms. Hutton said was a classic pattern. Officials warned residents of the danger of re-entering buildings that could have suffered structural damage.
The jolts shook buildings in San Diego, 125 miles to the south, and in Las Vegas, Nev., 275 miles to the northeast, and brief power failures were reported as far north as British Columbia.
Some hospitals were overwhelmed with injuries. At Holy Cross Medical Center in Sylmar, an emergency room admissions officer, Toni Regaldo, said the injuries included heart attacks, broken bones, lacerations and "a lot of blood." At the Granada Hills Community Hospital, officials set up a makeshift emergency room in the parking lot where hundreds of people were treated. The hospital itself suffered considerable damage and was operating on a generator.
Just yards away, the Kaiser Permanente administration building was all but demolished, its midsection squashed and its walls yawning open. Several buildings at the Sepulveda Veterans Administration Hospital were also damaged, forcing evacuation of more than 300 patients.
In Anaheim, about 40 miles southeast of the epicenter, Anaheim Stadium was littered with debris and the "Big A" sign and the giant replay screen leaned precariously over the upper deck. A game between Los Angeles and Sacramento was canceled.
Copyright The New York Times